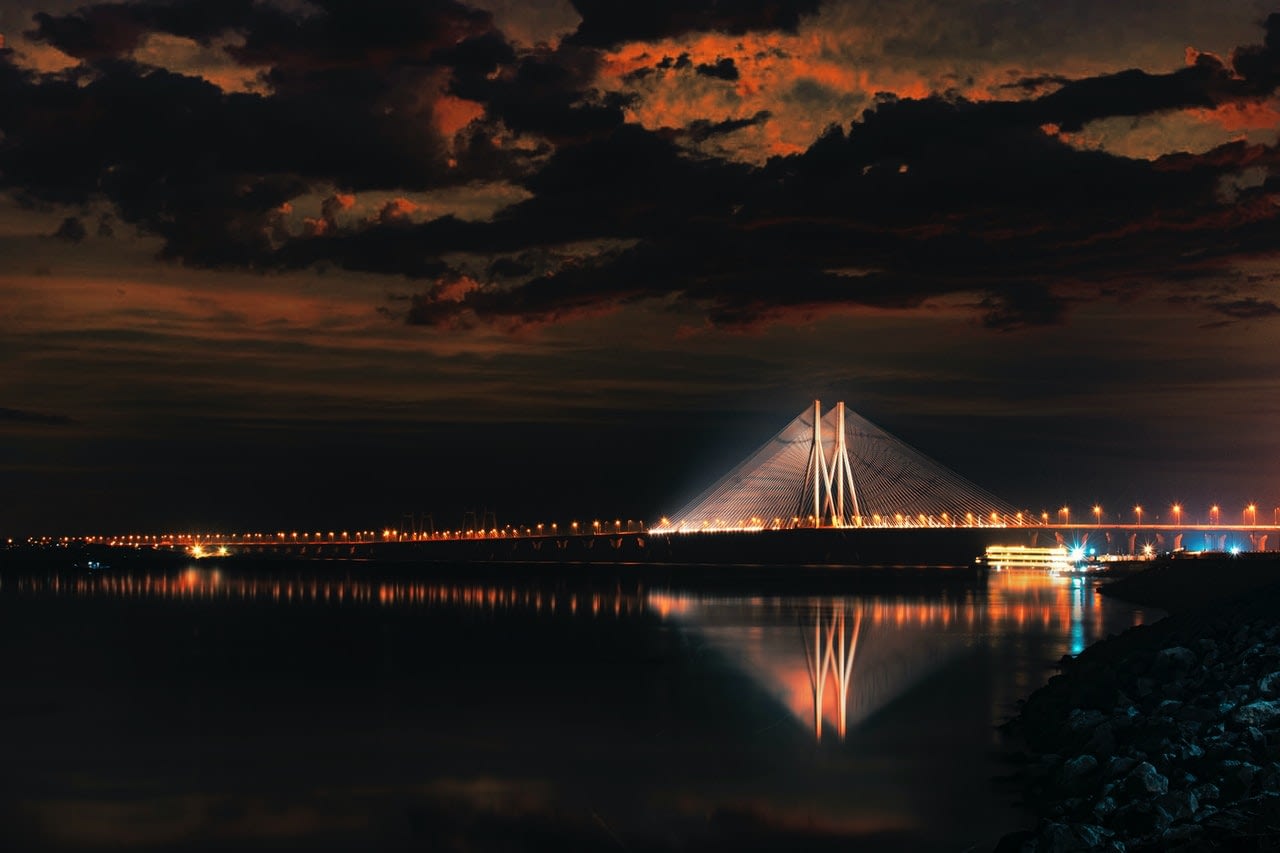 Ticket Price in Mumbai
Mumbai
Mumbai, previously known as Bombay, is India's second most populated metropolis after Delhi. It is the state capital of Maharashtra, as well as India's financial, commercial, and entertainment capital. In 1507, the city of Mumbai is founded on the ruins of a seven-island archipelago: the Isle of Bombay, Parel, Mazagaon, Mahim, Colaba, Worli, and Old Woman's Island. The city is located on the Konkan coast and features a large natural harbor. With a population of 20 million people, Mumbai is home to the eighth-highest number of billionaires of any city around the world.
The architecture here combines Gothic Revival, Indo-Saracenic, Art Deco, and other modern styles. The Victoria Terminus and Bombay University, for example, were constructed in the Gothic Revival style during British rule. The architectural characteristics of these display European influences and traditional Indian styles. Various features of Dutch roofs, German gables, Romance arches, Swiss timbering, Tudor casements, etc. can be seen here in the architecture. There are also some Indo-Saracenic-style structures; the gateway of India is a great example of this style. Mumbai is enriched with three UNESCO World Heritage Sites; the Elephanta Caves, the Chhatrapati Shivaji Maharaj Terminus, and the city's unique assemblage of Victorian and Art Deco structures.
In terms of international assets and earnings, Mumbai is one of the ten leading commercial centers around the globe, accounting for 6.16 percent of India's GDP. The city is home to significant financial institutions as well as the corporate offices of several Indian and global companies. It also houses several of India's most prestigious scientific and nuclear institutions. Additionally, Mumbai is known to be the home of the Bollywood and Marathi film industries. The commercial prospects of this city draw people from all across India.
Necessary Information about Mumbai
Continent: Asia
Country: India
State: Maharashtra
District: Mumbai City, Mumbai Suburban
Population: 20.4 million (2020)
Currency: India Rupee or INR
Dialing Code: 022
Language: Marathi, Hindi, English, Gujarati
Area: 4,355 km2
Airport: The Chhatrapati Shivaji International Airport
Railway Station: Mumbai Suburban Railway
Metro: Mumbai Metro
Emergency Contact Numbers
Info line: 1090
Police: 100, 022-22621855
Tourist Police: 022-22621855
Tourist Enquiry: 022-22024482, 022-22-24522
Ambulance: 102, 1298, 022-24308888
Fire: 101, 022-23085991 / 992
Gas Leakage: 1906, 011-1906
Women Helpline: 022-22633333, 22620111
Children Helpline: 1098
Disaster Helpline: 022-22694725
Places to Visit in Mumbai
Sanjay Gandhi National Park, Mumbai
If you are planning a trip to Mumbai, you must keep this on the top of your list! Covering an area of 1042 km, this is one of the most visited national parks in Asia. The rich greenery and dense forest will lure you away from your everyday life. In this park, animals such as tigers, leopards, deer, wild boars, sloth bears, python neelgai, and chinkara thrive among the comforts of the wild. This park is especially famous for trekking and boating on the park's beautiful artificial lake. This is an excellent picnic location to visit with friends and family. There are also other fun activities for children to enjoy, such as caged animals, toy trains, and so on.
Location: Western Express Hwy, Borivali East, Mumbai
Open: 9 am to 6 pm; every day except Mondays
Distance from BOM Airport: 17 km
Ticket Price: INR 58 for Indian adults and 31 for Indian children. INR 200 for foreigners. Extra charge for vehicle entrance, rides, and different activities.
The Gateway of India
The Gateway of India, which was built in 1924, will enchant you in every way. S situated adjacent to the renowned Taj Mahal Palace, the gateway overlooks the wide Arabian Sea and is the greatest place to visit in Mumbai. The early mornings and evening hours are the best time to visit and enjoy the sea breeze. There are many other things to see around the region. You can also ride in nearby ferries to get a breathtaking view of the gateway from the sea.
Location: Apollo Bandar, Colaba, Mumbai
Open: 24/7 every day
Distance from BOM Airport: 25.4 km
Ticket Price: No entry fee required. Ferry rides are chargeable.
Elephanta Caves, Mumbai
Elephanta Caves, a huge rock-cut cave network dating back centuries, is a UNESCO World Heritage Site in Mumbai. It contains five caverns devoted to the Hindu deity Shiva as well as two caves displaying Buddhist architecture. A soothing ferry trip from the Gateway of India takes tourists right to this architectural marvel. Exploring and walking through the caverns is an exhilarating experience. There is also a toy railway that takes you on a tour through the caves from beginning to end if you're not interested to walk.
Location: Gharapuri, Mumbai
Open: 9:00 am to 5:00 pm; every day except Mondays
Distance from BOM Airport: 25.4 km
Ticket Price:  Free for children up to 15 years; per person for Indian adults: INR 40; per person SAARC and BIMSTEC foreigner: INR 40; other foreigners: INR 600
Chhatrapati Shivaji Terminus
The Chatrapati Shivaji Terminus is India's second most photographed building. This majestic structure, located in the center of Mumbai, is another UNESCO World Heritage Site in India. This structure was constructed in 1888, during the British colonial era. This building's architectural design strongly represents the Victorian-Gothic style. Visit this site to admire the ancient magnificence and to bless your eyes.
Location: Chhatrapati Shivaji Terminus Area, Fort, Mumbai
Open: 24/7; every day
Distance from BOM Airport: 25.2 km
Ticket Price: No entry fee required.
Snow World, Mumbai
This snow-themed park, with a temperature of -10 degrees Celsius, provides guests with the comfort of winter even in the middle of July. If you live in a tropical area where it never snows, you can experience snowfall in this park. Activities like throwing a snowball, ice skating, and sledding, as well as snow sliding, are sure to boost your spirits. This is a fantastic spot to visit with your friends and family.
Location: Lower Ground Level 58 – 61, Phoenix Market City, Kamani Junction Kurla (W), Between Atrium 2 & 6, 15, Lal Bahadur Shastri Rd, Kamani, Jn, Mumbai,
Open: 11 am to 10 pm
Distance from BOM Airport: 3.7 km
Ticket Price: INR 600 per person for an hour including all the activities, attractions, and attire 
Bandra Fort, Mumbai
This fort, constructed by the Portuguese in the 17th century, overlooks the Arabian Sea, Mahim Bay, and Mahim Island. The architecture of this fort is unique and very appealing to the eyes. The blend of architectural beauty and the peacefulness of the sea soothes the souls of visitors. Presently, it is one of the most popular picnic sites among the tourists
Location: Byramji Jeejeebhoy Road, Bandstand Road, Mumbai
Open: 6 am to 6:00 pm; every day
Distance from BOM Airport: 14.3 km
Ticket Price: No entry fee required.
Haji Ali Dargah, Mumbai
Haji Ali Dargah, one of the most renowned religious sites of Mumbai, is situated right in the heart of the Arabian Sea. The mausoleum of Sayed Peer Haji Ali Shah Bukhari is housed inside this majestic building. The structure was constructed of white marble and is a remarkable example of Indo-Islamic architecture. The white elegance on top of deep blue water is truly a sight to behold! A causeway over the sea connects the dargah to the Lala Rajput Rai Marg. The trip through the causeway is especially thrilling since the water level below is so close to the bridge.
Location: Dargah Rd, Haji Ali, Mumbai,
Open: 5:30 am to 9:45 pm; every day
Distance from BOM Airport: 21.8 km
Ticket Price: No entry fee is required
Nehru Science Center
If you are a science enthusiast and planning to visit Mumbai, add this center to your list right now! With more than 500 science projects, Nehru Science Center is the largest interactive science center in India. You will find Science Park, science exhibitions, light and sight exhibition, scientific artifacts, and many more
Location: Worli, Mumbai
Open: 9:30 am to 6 pm
Distance from BOM Airport: 19.6 km
Ticket Price: Entry fee INR 70. There are additional charges for access to shows, areas, and activities within the center.
Powai Lake, Mumbai
The beauty and tranquillity of artificial Powai Lake rival that of a natural lake. This lake, which was built in the 18th century, is one of the greatest places in Mumbai to watch the sunset. The area is also very well-known for its bird diversity, particularly during the winter. Travelers come here for bird-watching and to enjoy the continuous chirping of different species of birds.
Location: Mumbai, Maharashtra
Open: 24/7; every day
Distance from BOM Airport: 7.5 km
Ticket Price: No entry fee is required
The Red Carpet Museum
The Red Carpet Museum is one of the coolest spots for entertainment in Mumbai. This museum displays lifelike wax statues of notable personalities from sciences, history, sports, music, and international cinema. Visitors come here to take pictures with their favorite personalities and fictional characters. Stop by to admire the realistic statues and their details.
Location: R City Mall, 1, Lal Bahadur Shastri Road, Amrut Nagar, Ghatkopar West, Mumbai,
Open: 8:30 am to 6 pm
Distance from BOM Airport: 6.4 km
Ticket Price: INR 300 per adult 
Kanheri Caves
Kanheri Caves is a cluster of approximately 100 rock-cut caves featuring Buddhist sculptures, engravings, inscriptions, murals, as well as other artifacts from the 1st to 10th centuries BC. If you want to experience Mumbai's ancient splendor, you must visit this important heritage site.
Location: Mumbai, Maharashtra 
Open: 7:30 am to 5 pm
Distance from BOM Airport: 22.6
Ticket Price: INR 15 for Indians and INR 200 for foreign tourists.
Mahakali Caves
This is a series of 19 stone caverns packed with sculptures that were erected between the 1st and 6th centuries BC. The relics housed within these caverns are owned by the Buddhist society, as the majority of the caves are said to have been frequented by early Buddhist Pilgrims. Abundant sculptures, reliefs, engravings, and reservoirs can be found in the caves to the southeast. With Countless statues, the ninth cave is the largest among the caves.
Location: Mahakali Caves Road, Sunder Nagar, Andheri East, Mumbai, Maharashtra
Open: 9 am to 6 pm
Distance from BOM Airport: 5.4 km
Ticket Price: INR 2O
Juhu Beach
Juhu beach is the kind of place where one would want to unwind and relax after a rough week. This beach is situated on the coastline of the Arabian Sea. The bluish waves of the sea create a quiet and relaxing setting that is ideal for exercising, bicycling, or taking long walks. The presence of street food sellers in the evenings enhances the liveliness of this site. With multiple statues of the freedom fighters on-site, Juhu beach is a very popular travel destination all year and is also a popular location for filming.
Location: Juhu Beach, Juhu Tara Rd, Juhu, Mumbai
Open: 24/7; every day
Distance from BOM Airport: 9.7 km
Ticket Price: No entry fee is required
ISKCON Temple
If you're going to Juhu Beach, you should stop by this temple as well. This contemporary-styled temple is one of the most stunning temples in not only Mumbai but also in the entirety of India. This is one of the country's most gorgeous and contemporary Krishna temples. The ISKCON temple is a seven-story monument, built in the 1970s. Along with old beautiful temples, this place has a restaurant, a bakery, auditorium, guest-house, library, meditating rooms, artifacts, and shops to buy religious items. Witnessing religious occasions celebrated in this temple is a glorious experience.
Location: Hare Krishna Land, Juhu, Mumbai
Open: Temple Timings: 4:30 am to 1:00 pm and 4:30 pm to 09:00 pm; every day
Prabhupada Quarters: 5:30 pm to 8:30 pm; every day
Distance from BOM Airport: 7 km
Ticket Price: No entry fee is required
Bandstand Promenade
This 1.2 km promenade that stretches alongside the Arabian Sea is a popular location for cultural events and activities. It's a very popular pilgrimage place for Christians. The beautiful Mount Mary Church near this site attracts visitors from all over India. There are also many beautiful spots, shopping sites, and architectural wonders in the surrounding area that beg to be explored.
Location: Bandra, Mumbai
Open: 6 am to 6:30 pm
Distance from BOM Airport: 13.4 km
Ticket Price: No entry fee required.
Things to Know Before Visiting Mumbai
Traffic
With a population of over 25 million people and a plethora of vehicles, Mumbai traffic is very jammed. In this city, there is no rush hour as the roads are busy 24/7. There is no solution to this problem other than embracing it and keeping extra time in hand while traveling. Don't only rely on the internet; ask the locals how long it might take to get somewhere.
Weather
It's wise to stop visiting Mumbai during the Rainy season (June to September) when the temperature is unbearably humid and heavy rain clogs the roadways. Although visitors visit the city most of the year, the months of November and February are particularly pleasant for visiting. The temperature stays between 20 and 30 degrees Celsius during that time.
Safety
Mumbai is renowned as one of the safest cities in India. One should avoid cheap motels if it's possible and stick to busy areas. Just be cautious and prioritize your safety as you would everywhere else in the world.
Street foods
Mumbai has a variety of street foods. Misal Pav, Bhel Puri, Sev Puri, Ragda Pattice, Kanda Batata Poha, Sabudana Vada, The Bombay Sandwich, Brun Maska, Chicken Mayo Roll, Ragda Pattice, Faluda are some of the most famous foods here. Ask the locals about the top places to eat certain foods. Be careful about hygiene before eating street foods. It is also best to drink bottled mineral water, as you might be sensitive to tap water here.
The people
Mumbai residents are referred to as Mumbaikars. They are a wonderful mingling of many religions and ethnicities. The people are as endearing as the city itself. Regardless of class or occupation, the people here possess big hearts. They are very welcoming and try their best to guide visitors with directions and other information.